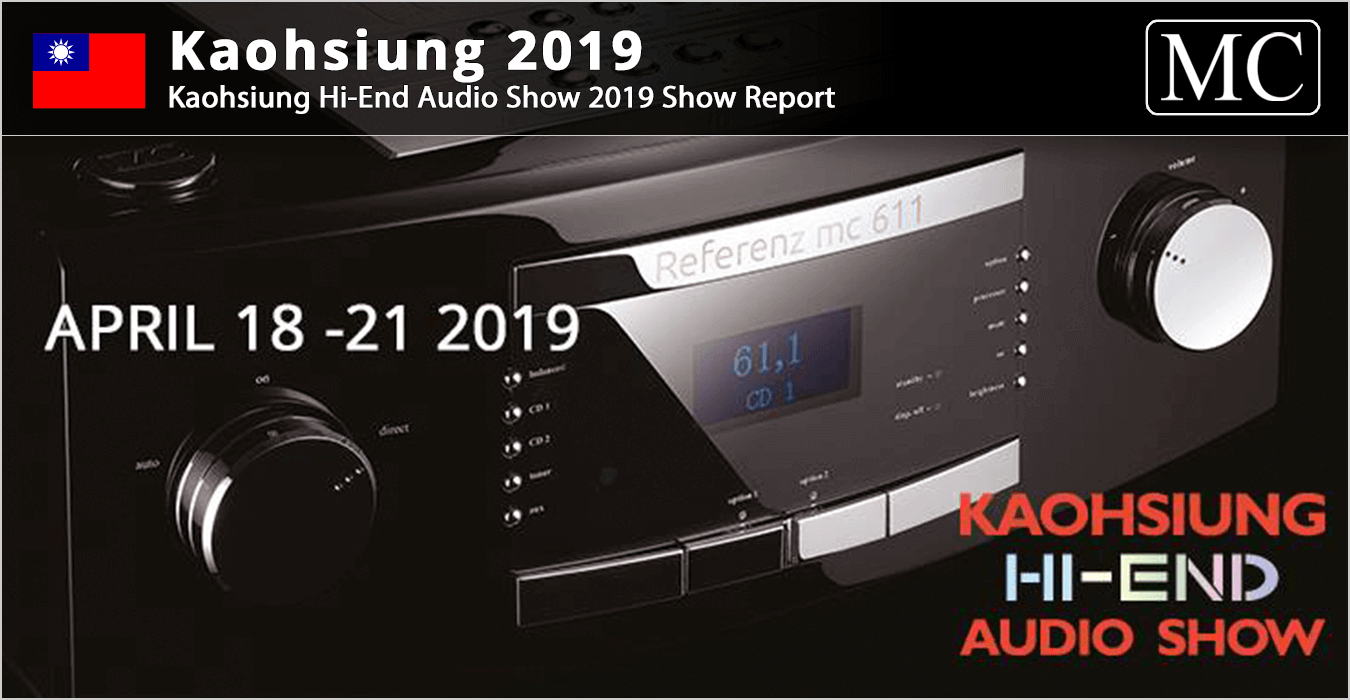 On behalf of MC-music culture technology GmbH, Berlin - Germany head quater and the Taiwan Sole Agent "Royal Asia Corporation" are attended in the "Kaohsiung High-End Audio Show" which demonstrated  the best MC's Sound effects to Taiwan audiophiles as well as the most of hi-fi audio users and music lovers who visited the audio exhibition and enjoyed the best sound from the unprecedented demonstration.
In the exhibition, we jointed with the World-Class Loud Speaker brand, the British B&W in this show together, showing the MC's Reference system and B&W top of the line speakers produced the gorgeous and the ultimate perfect sound. Besides, thank you the United States high end cable brand AudioQuest, "AQ" support, supplied their top end cable connections, transferred the highest quality signals and introduced the best ambiance feel in the venue.
In addition, we have also been chief editor from the Audio Art Mr. Jack Liu (Liu Hansheng) showed up at our booth and commented MC and B&W system performance with his professional opinions:
"The music is brilliant; the sound field is open and unlimited!" It proved the superiority of sound quality.
MC has won many years of professional awards from overseas; it proved our market position indeed!
We and our Taiwan Sole Distributor Royal Asia Corporation must continue to carry with our philosophy, Music and Culture. We will continue to deliver the most beautiful sound around the world to the largest of high-end audio supporters.
"A Proven Sound Technology"
---
謹代表MC-music culturetechnology GmbH德國總公司及臺灣總代理皇佳國際股份有限公司於"高雄國際Hi-End音響大展"中展示出MC最佳的音效給臺灣音響發燒級玩家以及廣大的音響用家以及音樂愛好者蒞臨音響大展,享受史無前例的最佳音效示範.
此次展覽是與世界級名牌英國B&W頂級揚聲器並肩展示,更是顯出MC音響和B&W揚聲器兩者的華麗和極緻的絕配音色,加上美國AudioQuest "AQ"鼎力支持,供應頂級線材連接,使MC發揮應有的高水準音效,讓氣勢宏偉的亮聲活現展場中.
除此之外,我們亦獲得音響論壇總編劉漢盛先生親臨音響展場並對MC作出專業的評價:
"音樂氣勢宏偉,音場開闊, 寬廣!" 引證了MC高級音響的優越性.
MC在海外曾連續獲得多年的專業獎項, 認証了MC的市場地位.
我們及臺灣總代理-皇佳國際股份有限公司定必秉承以music & culture命名的理念繼續傳送音樂文化於世界各地呈現MC最美的音響效果給廣大音響支持者.
"A Proven Sound Technology"